Dragi Spasovski Jubilee Concert DVD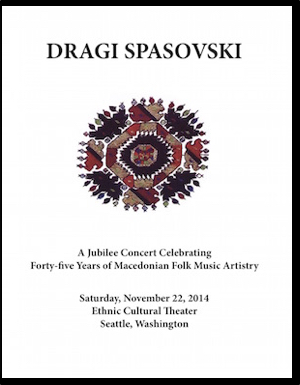 This live DVD was recorded on November 22, 2014 at the Ethnic Cultural Theatre in Seattle, WA. It's a celebration of 45 years of performance and Macedonian folk music artistry by Dragi Spasovski.
For this concert, Dragi was accompanied by talented Macedonian folk music enthusiasts from Seattle, Boston, and San Francisco. The concert included music from three Macedonian folk music strands: modern instruments, urban songs from the čalgija tradition (Ottoman-influenced folk music), and izvoren songs, (traditional rural instruments).
Below (and here) is one of the urban pieces, Ja izlezi, stara majko, followed by the DVD playlist and a list of the musicians.
Playlist
Jano, mori, Jano
Puknala majko, tresnala
Kaži mi, kaži, Katinke
Praša li Tinke Majka ti
Mnogu merak Imam, babo
Zbogum mila, dojde denot
Ostanala žena udovica
Ja izlezi, stara majko
Aj, zasvirete mi čalgii
Šeḱerino maloj mome
Me izgore, me zapali
Ajde bolno leži mojeto libe
Tam deka ima visoki čadarci
Slaga se sl'nce da zajde
Jano le, žiti dva brata
Dva mi brata, verno živuvale
Ori mome, lastar mome
Niz dvori se šeta moma Katerina
Ajde, nasred selo češma šarena
Sekulica mlada
Što e čudo stanalo
Nasred selo tapan bie
Musicians
Dragi Spasovski, vocals
David Bilides, tambura and kaval
Heidi Bodding, vocals
Bill Cope, oud and tambura
Sandra Dean, violin
Izumi Fairbanks, tapan and dajre
David Golber, clarinet
Michael Lawson, accordion
Ramona McDowell Wijayratne, vocals
Christi Proffitt, tarabuka, dajre, vocals
Steve Ramsey, guitar and tambura
Mary Sherhart, vocals
Dina Trageser, tambura, vocals
To order this DVD, please go to the order page.