Beyond the Mountain—Zad Planinata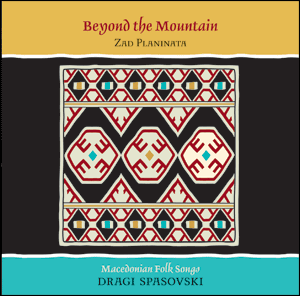 Recorded in Seattle, Washington with David Bilides, this CD features 21 tracks totaling 70 minutes of Macedonian folk music performed by Radio Skopje artist Dragi Spasovski. Dragi sings rural and urban songs of love, war, drinking, flirtation, envy, and family tragedy, accompanied by David on kaval, tambura, percussion, and synthesizer. One of the highlights of the CD is Dragi singing a new vocal part to accompany several of his mother's original čalgija recordings. Rajna Spasovska also recorded at Radio Skopje, and it was from her that Dragi first discovered his love of singing and learned a large part of his repertoire. The entire 3-CD project is dedicated to her. The Goran Alachki Orchestra and the Stefče Stojkovski Ensemble also put in appearances. Enjoy a few mp3 samples from the playlist below (or stream them all from the link at the end).
Be sure to listen to episodes from our Macedonian Postcards podcasts, which cover discussions, stories, and music about the CD project and all its songs.
Beyond the Mountain can be purchased separately or as a discounted set with Dragi's two other CDs. A 163-page book, Macedonian Folk Songs from the Repertoire of Dragi Spasovski Volume 1, is also available as part of this project, which has garnered many glowing comments from listeners and readers. It contains the lyrics in Macedonian, Latin transliteration, and English translations of all 54 songs spanning this 3-CD project. It comes as a bundled option with all three cds, or can be bought separately with one or two of the CDs. Check the order page for details.
Playlist
To order this CD, please go to the order page.