Macedonian Folk Songs for Voice and Tambura
Volume 2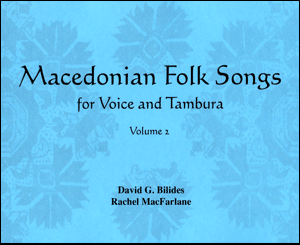 This 150-page book, by David Bilides and Rachel MacFarlane is available only as an online download. The download consists of the book as a pdf plus all 35 Macedonian folk songs as m4a audio files. The 92 minutes of music were recorded from the original records, or from cassettes, and digitally re-mastered. I've chosen 3 song samples to give you a preview.
Readers of both volumes have had many positive comments.
Also Included
lyrics to all the songs in Cyrillic, Latin transliteration, and English translation
notation of all vocals, including ornaments
tambura interludes in tablature
an interview with Boris "Kete" Ilievski, internationally known teacher of Macedonian folk dances
an article on Macedonian tambura playing techniques by Mark Samuels
notes on the songs
map of the region
pronunciation guide
glossary
resources, including: organizations; radio programs; web sites; and more
List of Songs
Ajde Bre Dilber
Ajde Čudo, Čudo
Ajde Kato, Ubava Nevesto
Ajde Leno, D' Ojme
Čuka Nekoj, Eleno Mome Mori
Delba Delila Taj' Bela Gena
Ǵurǵovo Leto, Proleto
Ilinko, Mome Ubavo
Izlegov Da Se Rašetam
Izlegu Da Se Rašetam
Jorde Ḱ' Odi V Tuǵina
Kači Se Gore Na Čardak
Kato, Kato, Katerino
Kinisalo Maloj Mome
Mace, Macke
Maloj Mome Ljubov Vodi
Mi Se Sobrale Vake-Take
Mitro Le, Mitro
Moma Odi Za Voda
Mori Čupi Kosturčanki
Ne Rusaj, Prusaj
Neveno, Nevesto
Oj Jovane, Gospodar Jovane
Rano Si Stanalo
Sadila Jana
Šarena Gajda
Sednal Dedo Kraj Ogan
Snošči Mi Dojdoe
Snošti E Dobra Docna Sedela
Snošti Sum, Libe
Teče Mi Voda Studena
Trŭgnal Mi Jane Sandanski
Tvojte Oči, Leno Mori
Veleškite Ergeni
Zaspala E Fida
Song Samples
Here are 3 mp3 clips from Volume 2:
Ǵurǵovo Leto, Proleto
Moma Odi Za Voda
Sadila Jana
To order this book, please go to the order page.
Please note: There are no shipping charges for this item.