Bajsa Arifovska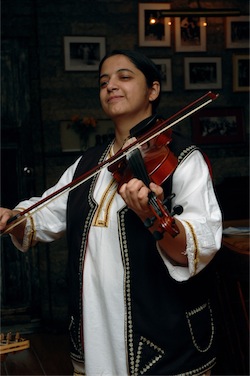 Bajsa Arifovska is one of the most well-known representatives of the new generation of Macedonian musicians She was born in 1978 in Kočani. After finishing grade school in 1992, she majored in music at the high school in Štip. She studied theory and concentrated on piano and violin. She also played flute, clarinet and saxophone when given the opportunity, because those instruments weren't available for everyday use at that time.
Bajsa's family moved often when she was young, and this gave her the opportunity to grow up in and absorb Macedonian folklore in the traditional manner, especially in the regions of Maleševo, Pijanec, and Osogovo in eastern Macedonia. There are musicians on both sides of her family. On one side are generations of zurla and tapan players from the village of Ratevo, near Berovo, and on the other, admirers of urban traditional song.
In 1996, Bajsa entered the Skopje Music Academy, where she met Professor Dragan Dautovski. He taught her traditional Macedonian instruments such as kaval, gajda, tambura, and tapan. As part of the Dragan Dautovski Quartet, she began her professional music career, touring Macedonia, Italy, France, Germany, Belgium, the Netherlands, Russia, Portugal, England, and Australia.
In 2000, on Dautovski's initiative, Bajsa began teaching traditional instruments at the state musical high school "Ilija Nikolovski — Luj," where she works to this day, teaching, and collaborating with many musicians. Since 2003, she has been the arranger and conductor of the Mandolin Orchestra of the "Darhia" Roma cultural and educational center. She and other Darhia members have completed several projects and toured the Balkans.
As a multi-instrumentalist, Bajsa is an active participant in various international world music and fusion activities. She's played in dozens of concerts and shows on Macedonian national television. Bajsa also collaborates with and is an orchestra member of the "Tanec" National Ensemble for Folk Dances and Songs in Skopje. As a teacher she participates in various traditional music seminars, including Goran Alački's annual Pearl Folk Seminar. She's recorded several albums and has also composed the music for the ballet "Broken Dream." She continues to record, tour, and compose, and is one of Macedonia's most sought-after musicians.
In May, 2013, Izvor Music released Bajsa's Macedonian Čalgija CD, a collection of instrumentals in collaboration with master čalgija musicians from Skopje.