Zurla Melodies from Maleševo—Maleševski Motivi na Zurla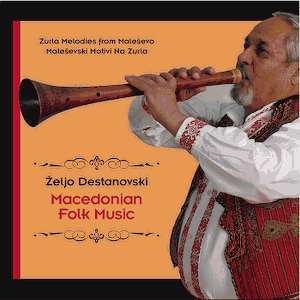 Recorded in Skopje, Republic of Macedonia, this CD is the first solo recording for the renowned zurla player Željo Destanovski. It features 16 tracks totaling 65 minutes of Macedonian folk music from the region of Maleševo not previously available, performed by the characteristic village ensemble of two zurlas (a boisterous wooden reed instrument) and a tapan (a large drum).
Enjoy a few mp3 samples from the playlist below (or download and stream them all from the link at the end).
Playlist
To order this CD, please go to the order page.