Leb i Vino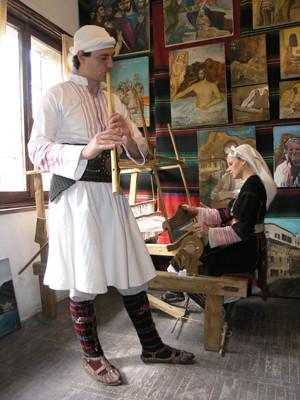 Leb i Vino is the duet of Elena Georgieva-Kamenarova and Jane Kamenarov, from the lovely Pirin town of Melnik, in Bulgaria. They grew up in the villages of Bosnek and Spatovo, respectively, listening to the stories, songs and playing of their grandparents. These experiences fostered an interest in the folklore arts. Elena studied painting, textiles, and sculpture at the National Academy of Fine Arts in Sofia, and Jane studied drawing in private schools, and was inspired to play the tambura after spending time with the well-known Bankso musician Atanas Jančovičin. Atanas gave Jane his own grandfather's tambura.
Elena and Jane met in the late 1990's while playing and singing at a festival in the Pirin mountains. Initially, they made music just for friends, but then, after studying with elders and seeing how differently current folklore looks from the past, they decided to start protecting, performing, and trasmitting the authentic folk arts styles and traditions they had encountered. Their son was born in 2005, and they decided to create Leb i Vino, which literally means "bread and wine." This is a metaphor for the body and blood of Christ, and it is their philosophy of life. It informs all their art: music, dances, painting, textiles, and Orthodox icon making.
Some of their projects include a kemane festival, an annual traditional music festival held in Spatovo in late August, a new CD (check out their first CD), and ongoing dance lessons for a teen group in Sandanski. They are planning to register as an NGO and hope to find financial aid to support their ideas for preserving Macedonian folklore in the most authentic way they know. For more information, visit their web site.